Free NHL Picks
Free NHL Picks For Dec. 4th
The Slap Shot is kicking off a new segment in which Mark and The Puck Monster along with a few other random pickers will square off in a Hockey Night In Canada Pick'em Pool. We encourage you to play along by leaving your picks in the comment section. If your picks are good enough, you will be invited to be a part of our pick'em team…that is until you start to suck!
While Mark will openly admit he isn't an expert with picking games, we're sure he is better than most. Although, who needs an expert with Proline Hockey Picks. Their betting software has a very impressive accuracy percentage. Each week we will give out a sample of their software.
Proline Hockey Picks Free Pick:  Take the Bruins
[table id=2 /]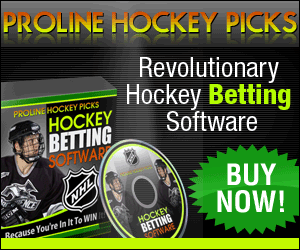 PROLINE HOCKEY PICKS proudly presents a revolutionary new Hockey Betting Software program which accurately predicts the outcome of NHL hockey games, before they even begin. Countless hours have been spent analyzing years of prior statistics in order to formulate an algorithm that accurately determines not only the expected winner of a hockey game but whether the game will exceed the set total number of goals or go under the set total number of goals. Although this betting system was originally designed to "BEAT" the very popular Canadian lottery known as PROLINE, our software will produce the same winning results for those Bettors that prefer to wager through Sportsbooks.