Behind the Scenes Hockey: Nine Unheralded NHL Players
Around the world of hockey, there are many words for them; "Down and Dirty", "Rough and Tumble", "In the Trenches", "Blue Collar players", and "Enforcers".
But throughout the years of the NHL, fans and staff alike have always loved the hardest hitter, the nastiest fighter, or the trashiest talker. In fact, many players and coaches in recent times have become famous for their gritty side, such as monstrous Zdeno Chara or 2010 playoff star Dustin Byfuglien.
Truthfully, the biggest physical presences are no longer ignored, or, as the title proclaims, "unheralded". But that's not to say there aren't any more "under the radar" blue collar players. In fact, there are more "behind the scenes" players than you expect, as no very well-known forward or defenseman was included…and that's why they're on this list.
Whether it's blocking shots, piling up takeaways, winning faceoffs, killing penalties, taking the longest shifts, or even establishing themselves in the never-forgotten art of hitting, these 10 players make the difference without the getting the fame. They're not afraid to sacrifice themselves or, for that matter, the opponent in their way, but all of them, despite having less-than-recognizeable names, deserve more playing time than many household name goal scorers in the NHL today.
Honorable Mentions: Pavel Datsyuk & Dan Girardi
While they both have drawbacks that prevented them from being true behind the scenes performers (Datsyuk's fame and Girardi's contract), both of these players deserve more credit than they receive for their defensive support.
32-year-old Datsyuk just ended a four-season 85-or-more point streak with the Red Wings, and with two Winter Olympic appearances for Russia and two Stanley Cup titles, he's far to much of a star to still be underappreciated. However, his defense efforts just might be.
Last season, Datsyuk's point total may have dropped by 27, but he still helped out greatly in the other zone, recording a whopping 132 takeaways, 49 more than the player with the second most in the league, Ryan Kesler, as well as finishing first on the team with 480 faceoff wins and a 55.1 win percentage.
On the other hand, Dan Girardi received a four-year, $13.3 million contract extension this summer despite the Rangers' cap limit problems, getting not just the management but also Girardi a lot of controversy. However, it shouldn't have dampened Girardi's defensive contributions in 2009-2010, when he finished second in the league in Time on Ice, first on the team in blocked shots, and second among Blueshirts in hits.
While some riled up Rangers fans upset over the extension argued that Girardi only dealt out "slight bumps", as a fellow writer of mine put it, his contributions cannot be overlooked.
Although both of these players didn't qualify to make the cut, their help on their own end proved very beneficial this past season.
Andy Sutton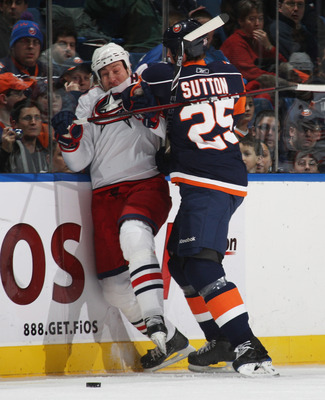 Andy Sutton's trade deadline move from New York Island to Ottawa and then his summer signing with Anaheim has done nothing to ruin Sutton's impressive defensive numbers in 2009-'10.
While the 35-year-old once again failed to break his miserable career season-high point total of 25, Sutton finished second in the league in blocked shots, as his 204 finished just nine behind league leader Dennis Seidenberg, and tied for 19th in the NHL in hits. His 197 hits were also matched by Pittsburgh's Craig Adams and Colorado's Cody McLeod.
Those numbers seem even greater when you consider Sutton was coming back from an '08-'09 campaign where he only played 23 games, as his blocked shots (60) and hits (30) were just a fraction of what they became this season.
While Sutton's now-expired contract, which included a $3.0 million cap hit, was a bit much for a player who's scored just 31 points and a minus-13 rating over the last three years, his physical contributions this past season were certainly overlooked.
Brooks Orpik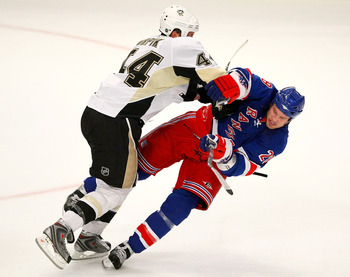 29-year-old Brooks Orpik is actually one the younger players on this list, but he shows little of that youth when drilling opposing players into the boards. Orpik was sixth among all players in hits with 255, and also second on his team with 117 blocked shots.
When you consider he put up these numbers while also putting up his career high from the blue line, a 25-point total most made up of his 23 assists, Orpik has a slightly impressive resume. Furthermore, those defensive statistics are actually a drop from his totals season-before-last, when he was second in the league with 309 hits and 21st in blocked shots with 152.
Orpik still has three years left on his contract, too, so we should continue to see the San Francisco native pummelling forwards for a while. However, he needs some recognition as an elite checking defenseman before he can truly create the brutal reputation he deserves.
Cal Clutterbuck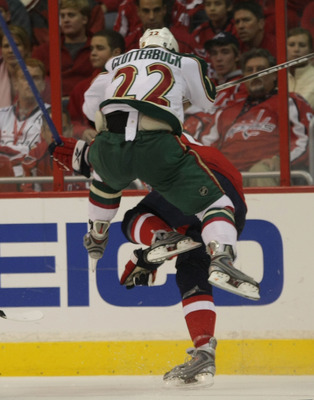 As seen in the picture above, relentless hitter Cal Clutterbuck has been known to tackle opponents from time to time. He also tends to pound opposing forwards into the ice sometimes, as well.
Indeed, Clutterbuck wasn't just the top hitter in the NHL this past season, his 318 hits was 31 more than any other player! And, actually, that was a step down from his whopping 356 in '08-'09! And, last but not least, those two league-leading seasons were also his first two seasons in the NHL!
Unquestionably, Clutterbuck seems destined to become one of the greatest hitters in the history of hockey. However, partially due to his run-of-the-mill 39 points in 154 games, the 22-year-old's name is still not well known as one of the most brutal wingers around.
By the time his sure-to-be-spectacular, although bloody, career is through, a movie could likely be made of his best hits over the years; but first, he needs to find an identity.
Jay McClement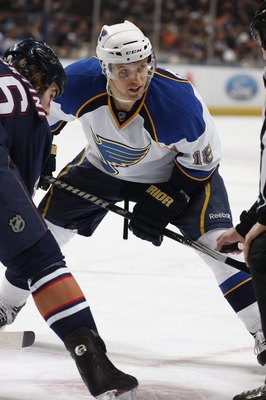 Jay McClement may not exactly be the best known player on the St. Louis Blues, much less the NHL, but he's quietly getting the job done.
McClement, the 27-year-old Canadien, has played two consecutive full 82-game seasons and missed just two of the Blues' last 328 games. While his 11 goals and 29 points this past season was only seven points shy of his career high, set in '07-'08, McClement took much of St. Louis's faceoff load the past two years, finishing 9th in the league in faceoff wins season before last and then 13th this past campaign.
McClement is also an extremely valuable penalty killer, as he was fourth in the league in shorthanded time on ice with almost 307 minutes, over five hours of clearing the puck. Amazingly, those 307 minutes amounted to 22% of his total time on ice, a much higher percentage than the first (Chris Phillips) and second (Jay Bouwmeester) players in shorthanded time, whose killing time was only 17% and 14%, respectively, of their total. Furthermore, McClement, a center, was the only forward in the top of 12 of the category.
Much to the surprise of many who see his name, Jay McClement is actually more than your typical bottom-six forward. His faceoff skills and penalty killing are, truthfully, very important for the Blues to build on.
Joni Pitkanen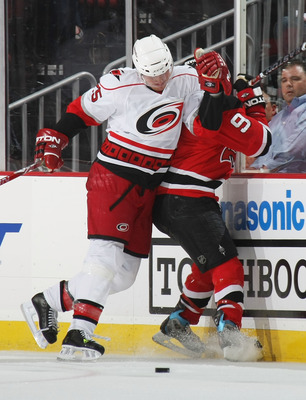 26-year-old defenseman Joni Pitkanen may be known for his playmaking skills rather than his defense, as his 40 assists but minus-11 rating last season pointed out, but he can also consistently chew up minutes better than any player in the league.
Although Pitkanen was just 16th in the NHL in total time on ice, he missed 11 games, and actually played more minutes per game (27:22) than any other player. His average of exactly one minute per shift was also fourth among all players around the league and second among defenseman, two seconds behind the Capitals' Mike Green.
Pitkanen also has a more production-related side to him. The 2010 Olympian was tied for first on his team, the Carolina Hurricanes, with 122 blocked shots (along with now-retired Aaron Ward), and also third on the 'Canes in takeaways, as his 57 trailed just Brandon Sutter (61) and Ray Whitney (64).
While he's often criticized for his defensive shortfalls, Joni Pitkanen cannot be overlooked as a very useful defenseman who's only going to continue to grow for Carolina.
Greg Zanon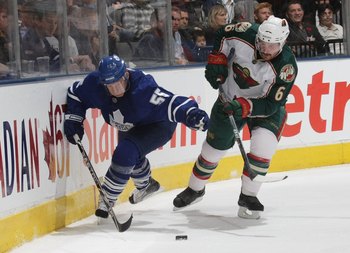 30-year-old defenseman Greg Zanon of the Minnesota Wild has never been made too many appearances on the box score, as his 15 points this past season were a career high despite his minus-10 rating. However, Zanon was second on Minnesota with 183 checks this past season, and fourth in the NHL with 197 blocked shots.
Amazingly, that total was a significant decrease from his 2008-2009 numbers, when he was third with 237 blocked shots, and just a slight increase from 2007-2008, when the Canadian was seventh with 176.
Zanon has also always been a consistent player. He's only missed five games over the past three seasons, in fact. While he's generally overlooked when it comes to physical defensemen due to his mediocre squad around him and lacking scoring skills, Zanon is a legitimate player when it comes to sacrificing his body for his team.
Mike Weaver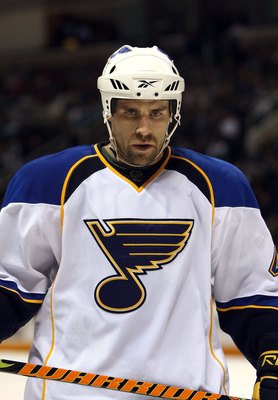 This past year, St. Louis was shorthanded more than any other team with 342 penalties, but still had the best penalty killing unit in the league, allowing opponents to score on only 13.2% of their powerplay opportunities.
Mike Weaver, along with aforementioned Jay McClement, was one of the biggest reasons the statistics are like that. Weaver spent nearly four minutes killing penalties every game, the second-most of any player, and was third in shorthanded time on ice for the entire season.
While the 32-year-old defenseman scored only one goal, just his fourth ever, and ten points for the Blues this season, his dedication to erasing his teammates' lack of discipline should've been rewarded more than it was. In truth, Weaver was left as a UFA this offseason after St. Louis re-signed cornerstones Erik Johnson and Carlo Coliacovo. The Canadian will now suit up for the fifth team in his eight-season career, the Florida Panthers, after being signed to a two-year, $1.8 million contract on August 3rd.
Hopefully, Weaver can survive the change of scenery and time zones to continue to help kill penalties in Florida, despite his lack of appreciation.
Matt Greene
Being an assistant captain of your team doesn't always make you a star, as defenseman Matt Greene proved with the Kings last season. His nine points in 75 games gave him the lowest point total of any of the 94 captains or assistant captains in the NHL, but he made up for it with his defensive play.
Greene played excellent positionally and finished with a plus-four rating. However, his hitting skills were even more impressive, as the 27-year-old finished with 238 hits, good enough for ninth in the league and 47 above any other Los Angeles player (Jarret Stoll was second on the team with 191). He also finished the year with 126 blocked shots, leading the team by 17.
However, this could've been described as merely an average season for him. In 2008-2009, Greene was tied for 19th and second on the Kings with 202 hits, and 10th in the NHL and by far the best of the team with 167 blocked shots!
While Greene obviously cannot be described as an offensive player nor as a well-known name, he's been a very solid enforcer for Los Angeles in his two seasons there.
Stephane Robidas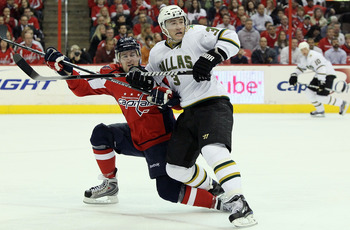 Stephane Robidas may be a part of the Stars, but despite his long, consistent career, he's still not a star. His 41 points, mostly made up of assists, from last season were a decent 15 points better than his previous career high of 26, matched the year before, should be a high note in his unheralded career.
Additionally, Robidas improved upon his 221 hits in 2008-2009, which was 12th in the league, by crushing opponents 269 times last season. That stat equated to fourth in the league on paper, a very impressive mark for a 33-year-old who might not be expected to be able to take that kind of physical toll.
Speaking of physical toll, however, Robidas sacrificed himself even more blocking shots, as he led Dallas with 177 of them, the seventh-best total overall, too.
Along with the eight other players we've already mentioned, Robidas gave all he had in several different categories for the good of his team. While the work may not have gone as rewarded as it should've, all nine of these committed enforcers surrendered themselves for the good of the team.
And now they can all finally have some recognition.