2011 Stanley Cup Playoffs: 10 Players Who Need To Step Up Quickly
With the 2011 Stanley Cup Playoffs in full swing, there appears to be a number of great series starting to develop. After two miserable efforts in their first two games against the Montreal Canadiens, the Boston Bruins stepped up Monday night, taking Game 3 by a final score of 4-2.
In other action, the Washington Capitals lost a tough one to the New York Rangers in Game 3 by a final score of 3-2, while the Pittsburgh Penguins took a 2-1 series lead over the Tampa Bay Lightning with a hard-fought 3-2 victory on Monday night as well.
In fact, the only two series that look to be all but over are the Detroit Red Wings/Phoenix Coyotes series and the Vancouver Canucks/Chicago Blackhawks series (which is currently being played as I write this).
For the most part, every team has had its fair share of players step up. Montreal Canadiens goaltender Carey Price has been exceptional, Vancouver Canucks forward Daniel Sedin leads the league in points with five (tied with Mike Fisher, Pavol Datsyuk and Corey Perry), while veteran forward Teemu Selanne leads the playoffs with four goals thus far.
There are plenty of examples of players that have stepped up their play thus far, but about about the ones that have impacted their team's fortunes in a negative way or, worse still, are yet to show up?
Let's take a look at 10 players that need to step up their play. For some, they'll have another game or two to pick up their play, for others, the time is now or else their team may be eliminated in short order…
Pavel Kubina—Defenseman, Tampa Bay Lightning:
Three games played, zero points, six penalty minutes and a league-leading minus-four rating.
That just about says it all when it comes to Tampa Bay Lightning defenseman Pavel Kubina.
Thought to be one of the more stabilizing defenseman on the Bolts roster, Kubina has seen his Time On Ice dip from 19:13 in the regular season down to 16:09 during the playoffs.
Kubina needs to play tighter defense and get in front of a few more shots. Kubina ranked third in blocked shots for the Lightning this season with 115, thus far he has four shot blocks in the playoffs.
It's not that Kubina is that far off his season average with regards to the shot blocks, but Tampa needs him to be off the charts in that category, and they need him to start playing smarter hockey.
Milan Lucic—Forward, Boston Bruins:
Milan Lucic led the Boston Bruins in points in the regular season in goals scored (30) and points with 62 (tied with David Krejci).
Through three playoff games, Lucic is yet to register a point, and for the most part, has looked invisible both on the power play (where the entire Bruins team is yet to register a point) and five-on-five, where Canadiens defenseman P.K. Subban has absolutely "owned" Lucic all series long.
They say if you want to win in the playoffs, your best players need to step up…Well, the Bruins are down 2-1 in the series…Lucic is a big reason why they are behind.
Ilya Bryzgalov—Goaltender, Phoenix Coyotes
In his first year in the playoffs, Ilya Bryzgalov registered a record of 6-4 to go along with a 1.46 goals-against average and an astounding .944 save percentages.
Needless to say, Bryzgalov was "money" when he played with the Anaheim Ducks in 2005-06, but he has been on a downward slide ever since.
Bryzgalov got his next taste of playoff action in 2006-07, again with the Ducks. This time, he registered a 3-1 record, 2.25 goals against average and a .922 save percentage—not bad!
Last year, now a member of the Phoenix Coyotes, Bryzgalov registered a 3-4 record with a 3.44 goals-against average and a .906 save percentage against the Detroit Red Wings.
Now, let's face it, the Red Wings have made their fair share of money goaltenders look very average over the years, so despite the inflated numbers, Bryzgalov actually had a decent playoff last season.
The 2011 Stanley Cup playoffs have been anything but kind to Bryzgalov as he has struggled mightily in his first three games against the same Detroit squad that beat him in seven games last season, registering an 0-3 record to go along with a bloated 4.41 goals against average and an awful .881 save percentage.
Needless to say, with the Coyotes down 3-0 in the series few people expect them to mount a four-game comeback to win the series. That said, if Bryzgalov doesn't show up in these final games the Coyotes may be done in four straight, which, given all the Winnipeg rumors, may spell the end of the Coyotes franchise in Phoenix.
Marian Hossa—Forward, Chicago Blackhawks
Four games played, no goals, one point (in tonight's game in which Chicago scored seven goals), a minus-three rating—this from a player that is getting 18:29 minutes of ice per night and 27 shifts.
Simply put, Marian Hossa is not earning his keep this time around as he is a mere shadow of the player that registered three goals and 15 points in 22 games with the Chicago Blackhawks in last year's Stanley Cup playoffs.
Tomas Kaberle—Defenseman, Boston Bruins
Ok, so probably the entire Boston Bruins team needs to be better, but with Tomas Kaberle giving away pucks, playing poorly on the power play and continually shying away from contact, he has done nothing to endure himself to the faithful Beantown fans.
Three games, no goals, no points, a Bruins power play (which he is supposed to be running), yet to score a single goal despite 13 attempts and a measly five shots on goal has more than a few Bruin fans wishing they could take Joe Colborne and their first-round draft choice back from the Toronto Maple Leafs.
Pekka Rinne—Goaltender, Nashville Predators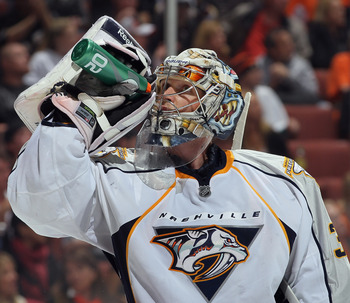 Jeff Gross/Getty Images
Thought to be one of the most underrated goaltenders heading into the playoffs, Pekka Rinne has been short of spectacular this playoff.
Sure, Rinne has registered a 2-1 record in his first three outings, but his 2.70 goals-against average ranks him 13th in the league and his .887 save percentage ranks him 15th overall—just a few points ahead of Philadelphia Flyers goaltender Sergei Bobrovsky, who has been designated to the bench for his poor performance.
Has Pekka Rinne been a big reason the Nashville Predators have two wins in their series thus far? Sure, but the numbers tell us that, despite the two wins, Pekka needs to step it up.
Joe Thornton—Forward, San Jose Sharks:
After a tough 2010-11 regular season in which he registered 70 points in 80 games—his lowest points total since he registered 68 points as a member of the Boston Bruins in 2001-02, "Jumbo" Joe Thornton has been invisible throughout the playoffs.
Through two playoff games, Thornton has no points and is a minus-two—this from a player that is averaging 24:04 in icetime and 26.5 shifts per game.
Thornton has a reputation for coming up small in playoff action—it seems he is perpetuating past performances and keeping his reputation as a playoff flop alive and well.
I mean—how many chances is Joe Thornton going to get to prove that he can step up in the playoffs???
Mike Richards—Forward, Philadelphia Flyers
What do Nikolai Zherdev, Ville Leino, Daniel Carcillo and James van Reimsdyk all have in common? They all have more goals than Mike Richards.
Now, don't get me wrong, Mike Richards has played a vital part in the Flyers early playoff success but don't we expect a little more in the goal-scoring department from Richards?
Richards had 23 points in 23 playoff games last season. The Flyers need him to return to that point a game player if they are going to be successful this playoff.
Marian Gaborik—Forward, New York Rangers:
Scoreless in six playoff games in 2007-08 as a member of the Minnesota Wild, New York Rangers forward Marian Gaborik has gone scoreless through three games in this year's playoffs.
Through 32 career playoff games, Gaborik has 12 goals and 23 points to his name—hardly what we'd expect from a player of his caliber.
Gaborik has struggled to score all season long, bulging the twine just 22 times, 20 less than his 42 goals in 2009-10.
The thing is, with the Rangers struggling to score, Gaborik simply has to step up if New York has any dreams of making it into the second round.
Dustin Penner—Forward, Los Angeles Kings:
Through two games, Los Angeles Kings forward Dustin Penner registered zero points and a grand total of three shots on net.
He was a minus-two in Game 1, and despite getting an assist in tonight's tilt against the San Jose Sharks, you'd have to say his performance thus far has been nothing short of disappointing.
Penner needs to shoot the puck more, get more involved physically and finally live up to his full potential. The Kings did not bring Penner over from the Edmonton Oilers organization to be a passenger—thus far, that's exactly what he has been.